Analysis of Ability to Understand the Concept of Space Building Volume in Elementary School Students in South Palu District
Keywords:
Concept Understanding, Volume, Realistic Mathematical Space Building
Abstract
This study aims to describe the types of amphibians in Wera Nature Park, to develop and produce a research-based booklet on amphibian species in Wera Nature Park which is suitable for use as a medium for studying animal taxonomy. Research consists of 2 types of research; purposive sampling technique and visual encounter survey (VES), ADDIE Development. The results of the descriptive research in WNTP obtained 10 species of Amphibians of the Anura order from 5 families, development received a standard booklet containing scientific names, pictures, media validation of 80.00% meaning that the good category was "Eligible". Material expert validation with a final score of 91.66% in the "Very Good" category. So that the product developed is feasible to be tested. The percentage of small group trials was 84.55% in the "very good" category. The percentage of the results of the large group trial was 90.08% in the "very good" category. Based on media expert validation, material and small and large group test results, it can be concluded that amphibian species booklets in WNTP are suitable for use as animal taxonomy enrichment material in the Biology Education Study Program FKIP Tadulako University.
Downloads
Download data is not yet available.
References
Anitah, S. (2010). Media pembelajaran. Surakarta: Lembaga Pengembangan Pendidikan dan UPT Penerbitan dan Percetakan UNS Press
Annawaty., & Paserang, P .A. (2009). Keanekaragaman fauna amfibi di Taman Nasional Lore Lindu. Jurnal Biocelebes, 2(3), 59-63.
Arikunto. (2000). Pendekatan praktis edisi ke-3. Jakarta: Rineka Cipta.
Kolifatur. (2015). Pengaruh penggunaan ensiklopedi bahan praktikum kelas XI terhadap motivasi dan hasil belajar siswa kelas XI MAN LAB UIN Yogyakarta. Tesis. UIN Sunan Kalijaga Yogyakarta.
Darmawan, B. (2008). Keanekaragaman amfibi di berbagai tipe habitat; studi kasus di eks-HPH PT. Rimba Karya Indah, Kabupaten Bungo, Provinsi Jambi. Jurnal IPB, 9(1), 3-42
Evanjeli. (2019). Keanekaragaman jenis burung di kawasan taman wisata alam Wera, Sigi, Sulawesi Tengah, Indonesia. Jurnal Biocelebes, 13(1), 1-10.
Ghazali, P. L. (2009). Pengembangan booklet sebagai media pendidikan kesehatan reproduksi bagi remaja tunanetra. Jurnal Kedokteran dan Kesehatan Indonesia, 1(1), 38-44.
Hakim, L., & Fatmaryanti, S. D. (2018). Studi Pendahuluan Pengembangan Media Pembelajaran Berbasis Booklet Etnosains Fotografi untuk Meningkatkan Kemampuan Berpikir Kritis Siswa. Prosiding URECOL, 1(1), 223-227.
Hanik, N. R., Hartono S., & Nugroho A.A. (2018). Penerapan pendekatan pembelajaran kontekstual dengan metode observasi untuk meningkatkan hasil belajar pada mata kuliah ekologi dasar. Jurnal Pendidikan Matematika dan Ilmu Pengetahuan Alam, 9(2), 127-138.
Hisyam, M. (2018) Identifikasi jenis Amfibi Ordo Anura di wilayah desa Ampera kecamatan Palolo Kabupaten Sigi dan pemanfaatannya sebagai media pembelajaran. Tesis. Universitas Tadulako, Palu.
Imtihana, M., Putut, F M., &. Bambang H. B. P. (2014). Pengembangan booklet berbasis penelitian sebagai sumber belajar pencemaran lingkungan di SMA. Jurnal Pendidikan Biologi, 3(1), 62-68.
Iskandar, D. T. (1998). Seri panduan medan amfibi Jawa dan Bali. Bogor: Pusat Penelitian dan Pengembangan LIPI.
Kanna, I. (2005). Seri pembibitan dan pemeliharaan-budidaya kodok. Yogyakarta: Kanisius.
Kusrini, M. D. (2013). Panduan bergambar untuk identifikasi Amfibi Jawa Barat. Bogor: Fakultas Kehutanan IPB dan Direktorat Konservasi Keanekaragaman Hayati.
Mardalis. (2008). Metode penelitian adalah pendekatan proposal. Jakarta: Aksara Bumi.
Muswita., Yulianti, U., Amita., & Kusuma, L. (2020). Pengembangan booklet tumbuhan paku di taman hutan raya Sultan Thaha Syaifuddin sebagai bahan pengayaan mata kuliah taksonomi tumbuhan. Biodik: Jurnal Ilmiah Pendidikan Biologi, 6(1), 58-75.
Muswita, N. (2019). Pengembangan media pembelajaran berbasis booklet pada materi hidrolisis garam di MA Babun Najah Banda Aceh. Jurnal Pendidikan Akuntansi Indonesia, 8(2), 1-10.
Paramita, R., Panjaitan, P. G. R., & Ariyati, E. (2018) Pengembangan booklet hasil inventarisasi tumbuhan obat sebagai media pembelajaran manfaat keanekaragaman hayati. Jurnal Sains dan Pembelajaran Sains, 2(2), 83-88.
Pough, F. H., Andrew, R. M, Cadle J. E., Crump M. L, Savitzky A. H., & Wells K. D. (1998). Herpetology. Prentice-Hall Inc.
Pralisaputri, K. R., Soegiyanto, H., & Muryani, C. (2016). Pengembangan media booklet berbasis himpunan materi pokok mitigasi dan adaptasi bencana alam untuk kelas X SMA. Surakarta. Jurnal GeoEco, 2(2), 147-154.
Puspita, A., Kurniawan A. D., & Rahayu, H. M. (2017). Pengembangan media pembelajaran booklet materi sistem imun terhadap hasil belajar siswa kelas XI SMA N 8 Pontianak. Jurnal Bioedukasi, 4(1), 64-73.
Rehusisma, A. L., Indriwati, E. S., & Suarsini, E. (2017). Pengembangan media pembelajaran booklet dan video untuk penguatan karakter hidup bersih dan sehat. Jurnal Pendidikan: Teori, Penelitian, dan Pengembangan, 2(9), 1238-1243.
Sultika., Annawaty., Pitopang, R., & Ihsan, M. (2017). Pola Penyebaran Burung di Kawasan Taman Wisata Alam Wera, Sigi, Sulawesi Tengah, Indonesia. Jurnal Sains dan Teknologi, 6(3), 301–312.
Suryani, N., Hairida, H., & Hadi, L. (2019). Pengaruh Booklet terhadap Respon dan Hasil Belajar Siswa Pada Materi Unsur, Senyawa, dan Campuran SMP Negeri 23 Pontianak. Jurnal Pendidikan dan Pembelajaran, 8(3), 1-9.
Wahyuni, S., Zainal, S., & Sabran, M. (2020). Jenis amfibi ordo Anura di Kecamatan Lindu Kabupaten Sigi dan pemanfaatannya sebagai sumber belajar pengayaan materi mata kuliah taksonomi hewan. Jurnal Kreatif, 8(3), 1-10.
Yaumi, M. (2012). Prinsip desain pembelajaran. Jakarta: Kencana Media Group.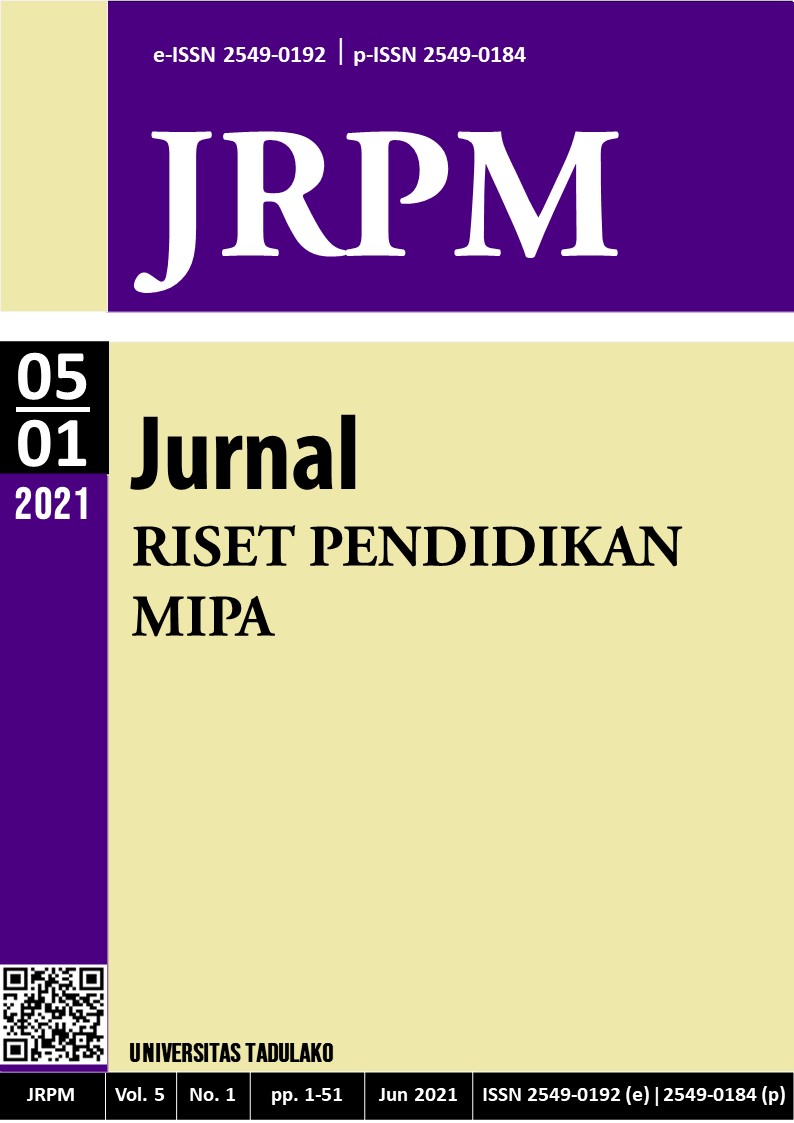 Downloads
How to Cite
Hisyam, M., ramadhan, A., & Budiarsa, I. M. (2021). Analysis of Ability to Understand the Concept of Space Building Volume in Elementary School Students in South Palu District . Jurnal Riset Pendidikan MIPA, 5(1), 39-47. https://doi.org/10.22487/j25490192.2021.v5.i1.pp39-47
License
Copyright (c) 2021 Muhammad Hisyam, Achmad ramadhan, I Made Budiarsa
This work is licensed under a Creative Commons Attribution-NonCommercial 4.0 International License.