Development of Invertebrate Zoological Learning Videos for Students Based Ecological Aspects of Macrozoobentos in The Toaya River Waters
Keywords:
Macrozoobentos, streams, vidios
Abstract
Macrozoobenthos as basic organisms in relatively sedentary habitats. This study aims to describe the development of invertebrate zoological learning videos based on aspects of macrozoobenthic ecology in Toaya river waters and the results of the research can be made into videos about the types of Macrozoobenthos as a media for learning biology. The method used is a descriptive method with a purposive sampling technique. The results of the research have been developed as learning media in the form of videos with a percentage value of 78% for content experts, 80% for design experts, and 77% for media experts. Meanwhile, there were 20 student trials, the percentage reached 87%. This shows that the video made is suitable for use as a learning medium. The number of Macrozoobenthos found were 4 Macramia magnifica, Bellamya javanica, Faunus ater, and Ocypoda stimpsoni. The diversity of macrozoobenthos in the waters of the Toaya river, Sindue District, Donggala Regency is low, for very abundant abundance, high density and low frequency, very high dominance, and low diversity. The most distribution patterns are at stations IV and III which are inhabited by Ocypoda stimpsoni species.
Downloads
Download data is not yet available.
References
Ardi, (2002).Utilization of Macrozoobenthos as Quality Indicators of Coastal waters, Email: Ardinov @ yahoo. Coom / NRP: C-626010021, Accessed 26 January 2008
Ekaningrum, (2012). Abundance of Macrozoobenthic Animals Associated in Seagrass Habitats with Different Distances in the Waters of Pramuka Island, Kepulauan Seribu. Journal of Aquatic Resources Management. Diponegoro University. Central Java. 1,: 1- 6.
Farianita. (2006). Bioecological Sampling Methods. Publisher PT Bumi Aksara: Jakarta.
Hadikusumah. (2008).Variables of temperature and salinity in Cisadane waters, Makara, Journal of Biological Sciences 12, (2): 82-88.
Haryono. (2007). Fish communities in the waters of Lake Sulawesi Utara in Gorontalo. Journal of Biota Ud, 10(1): 54 – 62.
Izmiarti. (2010). Macrozoobenthic Community in Banda Bakali, Padang City. Journal of Biospectrum 6 (1). 34-40.
Kawuri, (2012). The condition is based on the river bioindiator like Tembalang, Semarang city. Journal of Aquatic Resource Management, Diponegoro University 1, (1): 1-7.
Merliyana. (2017). Analysis of River Water Pollution Status with Macrozoobenthos as Bioindicators in the Sungai Sumur Putri Teluk Betung: Raden Intan Islamic University, Lampung. 1, (1): 20-35.
Michael. (1994). Ecological Methods for Field and Laboratory Investigations, Publisher: Universitas Indonesia Jakarta
Oktariana, (2015) Diversity and distribution of Macrozoobenthos in the waters of Lotik and Lentik, Bandung Institute of Technology Campus Area, Jatinanagor Sumedang, West Java.Pros Sem Nas Masy Biodiv Indon 1 (2): 227-235.
Pelealu, (2018).Macrozoobenthos abundance and diversity in rivers Talawan Waterfall North Minahasa Sulawesi north. Sam Ratulangi University Manado, Scientific. 18 (2): 98-102.
Rahmawaty. (2011). Macrzoobenthos diversity index as a bioindicator of pollution levels in the Jeneberang River Estuary. Bionature 12, (2): 103-109.
Ratih, (2015). Inventory of macrozoobenthic diversity in the Brantas river basin, Ngoro Mojokerto sub-district as a learning resource for high school biology in class X.Universitas Muhammadiyah Malang. Indonesian Biology Education Journal. 1, (1): 158-169.
Rauf Abdul. (2019). Macrozoobenthic diversity in Toaya River, Toaya Village, Sindue District, Donggala Regency. Hammer: Tadulak University, Online Creative Journal 7, (2): 114 – 131.
Romadhon, A. (2008). Ecological Value Study through Inventory and Important Index Value (INP) of Mangroves for Environmental Protection of the Kangean Islands. Embryo Journal. 5 (1): 82-97.
Salmin. (2005). Dissolved Oxygen (DO) and Biological Oxygen Needs (BOD) as One Indicator to Determine Water Quality. Oseana Journal. 1, (30): 21-26.
Satiyarti, (2017) Macrozoobenthos as a bioindicator of water quality in the Wabelau river Bandarlampung,Majalah teknologi Agro Industri. Jurnal ilmiah 9, (2) : 1-9.
Sudjana.R. (1992). Learning media. Bandung: Publisher CV.Sinar Baru Bandung
Suwondo, (2004). Biological Quality of Senapelan, Sago and Sail River Waters in Pekanbaru City Based on Plankton and Bentos Bioindicators. Journal of Biogenesis. 1,(1): 15-20.
Tantangindatu, Frits, Et al. (2013). Study Parameters of Water Chemistry Physics in Fish Cultivation Area in Lake Tondano, Paleloan Village, Minahasa Regency. Journal of Aquaculture. 1, (2): 8-19.
Yudianto. (2017). Application of video as a learning resource. National Seminar
Zulkifli. (2011). Structure and Function of the Macrozoobenthic Community in the waters of the Musi River, Pulokerto Region as a Biomonitoring Instrument. Journal of Natur Indonesia. 14, (1): 95-9.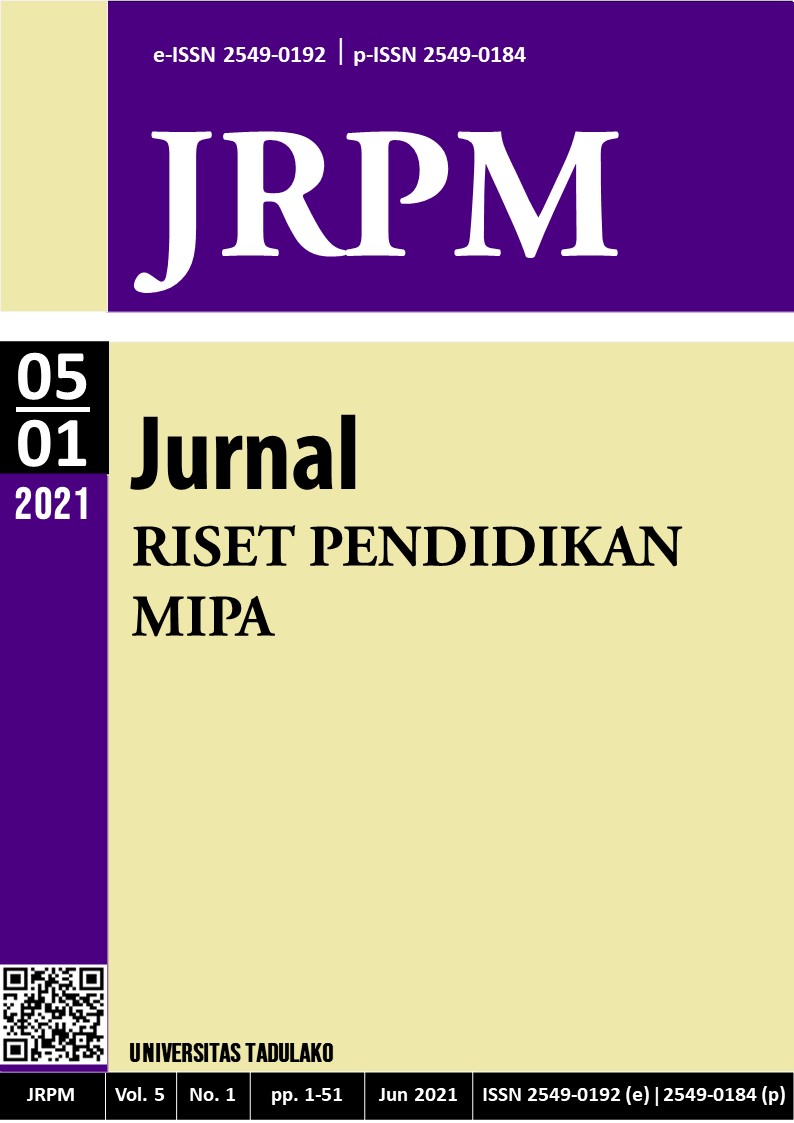 Downloads
How to Cite
Ansyari, R., Ramadhan, A., & Kundera, I. N. (2022). Development of Invertebrate Zoological Learning Videos for Students Based Ecological Aspects of Macrozoobentos in The Toaya River Waters. Jurnal Riset Pendidikan MIPA, 5(1), 35-40. https://doi.org/10.22487/j25490192.2021.v5.i1.pp35-40
License
Copyright (c) 2022 Rahmat Ansyari, Achmad Ramadhan, I Nengah Kundera
This work is licensed under a Creative Commons Attribution-NonCommercial 4.0 International License.