Mushroom Diversity in the River Flow in The TAHURA Area of Palu City and Its Untilizaio as a Learning Media
Keywords:
Diversity,, Mushrooms,, Learning Media,, TAHURA,, Palu City
Abstract
This study aims to analyze the diversity of mushroom species in the watershed area of the TAHURA area of Palu City and to create a media poster regarding the types of fungi that exist in the river basin in the TAHURA area of Palu City that can be used in learning. This type of research is descriptive research. The method used in this research is the path method (Belt Transect). Sampling is divided into 3 stations in the TAHURA area of Palu City, along the river flow, 10 Belt Transects will be made and the distance between the transects is 20 m. Line length (Belt Transect) 100 m with a plot width of 2 x 2 m and a distance between plots of 2 m. The results found 16 species belonging to 2 divisions, where in the Basidiomycota division there are 15 types of mushrooms and in the Ascomycota division there is 1 type of fungus. medium category or the value of H '= 2.57. The results of the study were used as learning media in the form of posters about the diversity of mushroom species in the river basin area in the TAHURA area of Palu City, after going through validation by media validation lecturers and due diligence by 24 students who were divided into 2 groups, with a large group average score of 86, 8% and the small group 88.3%, the results obtained are classified as suitable for use as learning media.
Downloads
Download data is not yet available.
References
Aminullah, M., Yuwanto, L., & Lasmono, H. K. (2009). The Effect of Stimulus Modality on Memory. Indonesian Psychological Journal, 24(3), 265-281.
Akinyele, B.J. & Adetuyi, F.C. (2005). Effect of Agrowastes, pH and Temperature Variation on The Growth of Volvariella volvacea. African Journal of Biotechnology. 4(12), 23 - 31.
Anggriawan, I. (2014). Inventory of High Level Fungi (Basidiomycetes) on Mount Singgalang, West Sumatra. Andalas University Biology Journal, 3(2), 147-153.
Ariyanto J., Widoretno, Nurmiyati & Agustina. (2015). Study of Tree Plant Biodiversity at Three Forest Police Resort (RPH) under Telawa Forest Management Units (KPH) Using the Point Center Quarter (PSQ) Method. Biodiversity, 4(3), 502-512.
Candra, E. (2011). The Effectiveness of Learning Media in Biology Learning (Meta Analysis of Experimental Research in Biology Learning). Holistic, 12(1), 103-128.
Chang, Y. S. & Lee, S. S. (2004). Utilization of Macrofungi Species in Malaysia. Fungal Diversity. Forest Research Institute Malaysia (FRIM), 15(1), 15-22.
Dai & Yu-Cheng. (2009). Species Diversity and Utilization of Medicinal Mushrooms and Fungi in China. International Journal of Medicinal Mushrooms, 11(2), 287-302.
Darwis, Welly, Desnalianif & Rochmah Supriati. (2011). Inventory of Edible and Toxic Mushrooms in the Forest and Around the Village of Tanjung Kemuning Kaur Bengkulu. Biological Conservation. 7(2), 1-8.
Dina, I. (2011). Assessment of the results of the Teaching and Learning process. Bandung: Rosda Karya.
Erwan S. & Mukhidin. (2013). Development of Interactive Multimedia-Based Learning Model Measurement to Improve Learning Outcomes and Independence of Junior High School Students in Bandung City. Journal of Technology and Vocational Education, 21(3): 203 - 218.
Gilliland, Jack. (1968). The Concept of Readability. Journal of Literacy, 2(2), 24-29.
Jamli L. (2016). Analysis of Natural Resources Management by the Kaili Community in the Forest Park (TAHURA) Central Sulawesi. J. Agrisains, 17(1), 24-33.
Mayasari, I. M., R. Linda & S. Khotima. (2015). Types of Basidiomycetes in the Bukit Beluan Forest, Hulu Gunung District, Kapus Hulu Regency. Journal of Protobiotics, 4(1), 22-28.
Mshandete, AM. & Cuff, J. (2007). Proximate and Nutrient Composition of Three Types of Indigenous Edible Wild Mushrooms Grown in Tanzania and Their Utilization Prospects.
African Journal of Food, Agriculture, Nutrition and Development, 7(6), 99-129.
Muchtar A. & Abdullah N. (2007). Analysis of Factors Affecting the Mamasa River Discharge. Journal of Forests and People, 2(1), 174-187.
Odum, E. P. (1994). Ecology Basics. Translation of the Fundamental of Ecology by T. Samingan. Yogyakarta: Gadjah Mada University Press.
Parlindungan, A.K. (2003). Characteristics of growth and production of white oyster mushroom (Pleorotus ostreatus) and gray oyster mushroom (Pleurotus sajor Caju) in Imperata baglog. Indonesian Natur Journal, 5(2), 152-156.
Rahayu. 2013. Identification of Macroscopic Fungi in Tangale Nature Reserve, Tibawa District, Gorontalo District. Biospectrum, 3(2), 15–31.
Rohyani, Immy Suci, et al. (2015). Phytochemical Content of Several Types of Local Plants which are often used as Raw Materials for Medicines on the Island of Lombok. Proceedings of the National Seminar on the Indonesian Biodiversity Society. 1(2), 388-391.
Setiawan, P. Z, & Efendi, N. (2014). Flipchart Learning Media Application to Improve Mastery of Growth and Development Material in Integrated Science Subjects. Journal of Educational Technology, 7(2), 2407-7437.
Soemarno. (2013). Preservation of Wood. Yogyakarta: Kanisius.
Wahyudi, Agus Eko, Riza Linda and Siti Khotimah. (2012). Inventory of Macroscopic Fungi in Peat Swamp Forest in Teluk Bakung Village, Sungai Ambawang District, Kubu Raya Regency. Protobiont. 1(1), 8-11.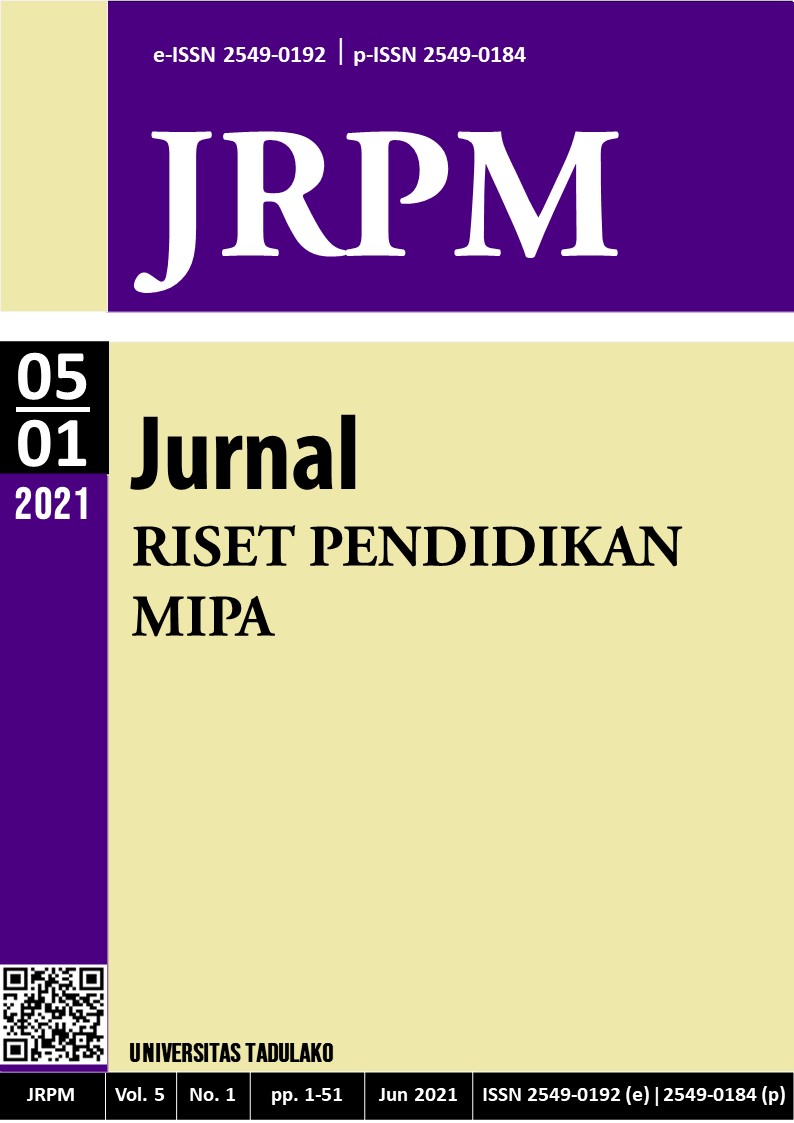 Downloads
How to Cite
Asmawir, A., Suleman, S. M., & Budiarsa, I. M. (2022). Mushroom Diversity in the River Flow in The TAHURA Area of Palu City and Its Untilizaio as a Learning Media. Jurnal Riset Pendidikan MIPA, 5(1), 26-34. https://doi.org/10.22487/j25490192.2021.v5.i1.pp26-34
License
Copyright (c) 2021 Authors
This work is licensed under a Creative Commons Attribution-NonCommercial 4.0 International License.