Diversity And Abundance Of Beetles (Coleoptera) In The Village Of Luksagu, North Tinangkung District And Its Utilization As A Learning Media
siti aisyah
Keywords:
Diversity, Abundance, Coleoptera, Handbook
Downloads
Download data is not yet available.
References
Andrewartha, H. G., & Birch, L. C. (1954). The distribution and abundance of animals. The University of Chicago Press: Chicago.
Argyropoulou, M. D., Karris, G., Papatheodorou, E. M., & Stamou, G. P. (2005). Epiedaphic coleoptera in the dadia forest reserve (Thrace, Greece): the effect of human activities on community organization patterns. Belgian Journal of Zoology, 135(2), 127-133.
Borror, D. J. (1992). Introduction to insect lessons sixth edition. Yogyakarta: UGM.
Cardillo, M. (2006). Disappearing forest and biodiversity loss: which area should we protect. Journal Internasional Forestry Review, 8(2) 251-255.
Darmawan, A., Tuarita., & Ibrohim, H.(2005). Animal ecology. Malang: UM Press.
Daryanto. (2016). Learning Media. Yogyakarta: Gava Media.
Harumi, E. R. (2011). Population of elaeidobius kamerunicus faust on oil palm (Elaeis guineensis jacq) in ptpn viii cimulan. Thesis. Bogor: Bogor Agricultural University.
Haryono. (2007). Primary school learning media. Bandung: UPI PRESS.
Hoekstra, J. M., Boucher, T. M., Ricketts, T. H., & Roberts, C. (2005). Confronting a biome crisis: global disparities of habitat loss and protection. Journal Ecology Letters, 8, 23-29.
Kamarudin, N. M. B., Wahid., & Moslim. R. (2005). Environmental factors affecting the population density oforyctes rhinoceros in a zero-burn oil palm replant. Journal of Oil, 15(1),136-137.
Kumar, S., & Ahmad, M. (2007). Effect of temperature and humidity on biology of rhinoceros beetle, Oryctes rhinoceros Linn.on palm oil. Journal of Applied Zoological Researches, 18(2), 108-112.
Kustandi, C., & Sutjipto, B. (2013). Learning media: manual and digital. Bogor: Ghalia Indonesia.
Noerdjito, W. A., Makihara, H., & Matsumoto, K. (2005). Longicorn beetle fauna (Coleoptera, Cerambycidae) collected from Friendship Forest at Sekaroh, Lombok. Proc. Int. Workshop on the Landscape Level Rehabilitation of degraded Tropical Forest, Japan: FFPRI, Tsukuba, pp 55-64.
Noerdjito, W. A. (2011). Evaluation of forest conditions based on the diversity of long barley beetles (Coleoptera, Cerambycidae) in the Mount Slamet area. Journal Biology News, 4, 521-531.
Packham, J. R,. Harding, D. J. L., Hilton, G. M., & Stuttard, R. A. (1992). Functional ecology of woodlands and forests. London (GB): Chapman Hall.
Pradana, P. (2012). Inventory of insects in the kako plantation of the plant protection unit laboratory in Bedulu village, blahbatuh district, Gianyar regency, Bali. Journal of Biology XIV, (1), 56-58.
Pujiastuti, Y., Janri, S. G., & Arinafril. (2010). Estimation of population development of rhinoceros oryctesl. (Coleoptera: scarabaeidae) in oil palm plantations (Elaeis Guineensis Jacq). Thesis. Jakarta: Sriwijaya University.
Sangkertdati. (2008). Efforts to circulate the rate of increase in urban air temperature through greening optimization. Journal ecotome, 8(2), 137-144.
Saputra, H. (2018). Making a pocket book on the diversity of living things in Smpit Fazar ilahi batam for the 2016/2017 academic year. Batam: University of Riau.
Setyono. (2013). Development of a global warming material handbook for junior high schools. Unnes Journal of Biology Education, 4(1), 34-36.
Sugiyarto. (2007). Preference of various types of soil macrofauna to residual plant organic matter at different light intensities. Surakarta: Department of Biology, Faculty of Mathematics and Natural Sciences, SebelasMaret University.
Sulistyani, D. H. N., Jamzuri., & Rahardjo, T. D. (2013). The difference in student learning outcomes between using pocket book media and without pocket book media on class x circular motion kinematics material. Journal of Physics Learning and Materials, 1(1), 164-172.
Supriyadi, S. (2008). Organic matter content as the basis for soil management in Madura dry land. Journal Embryo, 5(2), 176-183.
Rahmawati, L. N., Sudarmin., & Pukan, K. K. (2013). Development of an integrated bilingual pocket book with the theme of chemicals in life as teaching material in MTs. Unnes Science Educational Journal, 2(1), 157-164.
Ranintya, M., Kriswanto, E. S. (2015). Development of a pocket book on introduction to sports injury care for junior high school students.Journal of Sports Science, 11(1), 56-57.
Ysvina. (2010). Weather and Pest Relationships. Surabaya: Airlangga University.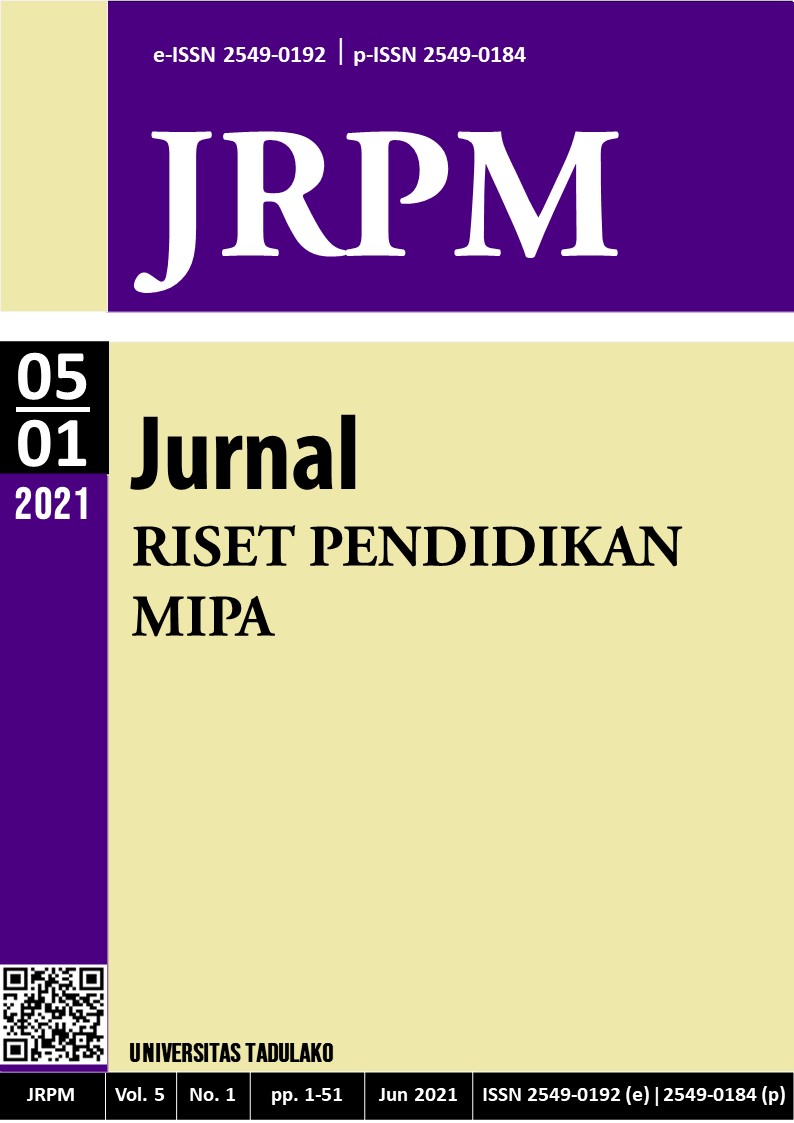 Downloads
How to Cite
Marjuno, S. A. M., Tellu, A. T. ., & Masrianih, M. (2022). Diversity And Abundance Of Beetles (Coleoptera) In The Village Of Luksagu, North Tinangkung District And Its Utilization As A Learning Media: siti aisyah. Jurnal Riset Pendidikan MIPA, 5(1), 18-25. https://doi.org/10.22487/j25490192.2021.v5.i1.pp18-25
License
Copyright (c) 2022 Siti Aisyah Marjuno Marjuno, Andi Tanra Tellu, Masrianih Masrianih
This work is licensed under a Creative Commons Attribution-NonCommercial 4.0 International License.