Development of Learning Media About the Study of Etnobotany Plant in Lauje Tribe at the Village of Siboang, Sojol District Donggala Regency
Keywords:
Ethnobotany, Plants, Learning Media.
Abstract
This study aims to reveal knowledge about the use of plants used by the Lauje tribe in Siboang village by identifying the types, parts of plants used, benefits and methods of processing plants and making research results as learning media in the form of pocket books. This type of research is descriptive exploratory with the roaming method and the samples are taken randomly. The pocket book learning media development model used in this study is the 4-D model (four D model). The results of this study obtained as many as 43 types of plants that are useful for everyday life and are believed by the public to have the potential to cure disease. A total of 43 plant species were found in Siboang Village consisting of 28 families, the largest being Arecaceae, Poaceae and Zingiberaceae each consisting of 4 species. These types of plants are used for various benefits, among others. As a food ingredient, as medicine, as a cooking spice, as a complement to traditional ceremonies, handicrafts as additional income and as fuel. This research produced a product in the form of a pocket book with a percentage of 83% (Very Appropriate) as a learning medium.
Downloads
Download data is not yet available.
References
Alvionita., Lambui, O., & Pitopang, R. (2020). Kajian etnobotani tumbuhan obat suku Topo Uma di desa mandiri Kabupaten Sigi Sulawesi Tengah. Jurnal Biocelebes, 14(2), 105-118.
Arikunto, S. (2009). Prosedur penelitian merupakan pendekatan praktis. Edisi Revisi 6. Jakarta: Rineka Cipta.
Asyhari, A., & Silvia, H. (2016). Pengembangan media pembelajaran berupa buletin berupa buku saku pembelajaran IPA terpadu. Jurnal Ilmiah Pendidikan Fisika Al-biruni, 5(1), 1-13.
Damayanti, C., Rusilowati, A., & Linuwih, S. (2017). Mengembangkan model pembelajaran IPA terpadu etnosains untuk meningkatkan hasil belajar dan keterampilan berpikir kreatif. Jurnal Pendidikan Sains Inovatif, 6(1), 116-128.
Efremila., Wardenaar, E., & Sisillia, L. (2015). Kajian etnobotani tanaman obat suku Dayak di Desa Kayu Tanam Kecamatan Mandor Kabupaten Landak. Jurnal Hutan Lestari, 3(2), 234-246.
Has, D. H., Zuhud, E. A. M., & Hikmat, A. (2020). Etnobotani kedokteran pada masyarakat suku di KPHP limau unit VII Hulu Sarolangun Jambi. Jurnal Media Konservasi, 25(1), 73-80.
Imtihana, M., Martin, F. P. H. B., & Priyono, B. (2014). Pengembangan booklet berbasis penelitian sebagai sumber belajar materi pencemaran lingkungan. Jurnal Pendidikan Biologi Unnes, 3(2), 186-192.
Melay, S., Suwardi, A. B., & Sofiyan. (2019). Etnobotani tumbuhan penghasil buah sebagai obat tradisional. Jurnal pro. Semnas. Peningkatan Mutu Pendidikan, 1(1), 293-296.
Murdianti, D., Wulandari, D., & Yuyarti. (2017). Pengembangan media pembelajaran buku saku IPA materi gerak benda kelas III. Jurnal Belajar Menyenangkan, 6(2), 97-103.
Nunu, M. (2012). Media pembelajaran (Kajian tentang langkah-langkah pemilihan media dan penerapannya dalam pembelajaran). Jurnal Pemikiran Islam, 37(1), 27-35.
Nurchayati, N., & Ardiyansyah, F. (2018). Kajian etnobotani masyarakat adat di Kabupaten Banyuwangi. Jurnal Studi Biologi dan Biologi, 3(2), 87-101.
Nurhidayah, Y., Lovadi, I., & Linda, R. (2015). Tumbuhan berpotensi sebagai bahan pangan di desa sebangun kecamatan sebawi kabupaten sambas. Jurnal Protobiont, 4(1), 151-159
Nyoman, N. D. (2013). Analisis keragaman jenis tumbuhan obat tradisional untuk pengobatan penyakit saluran kemih di Kecamatan Kintamani Kabupaten Bangli Provinsi Bali. Jurnal Bumi Berkelanjutan, 13(1), 159-165.
Paramita, R., Panjaitan, R. P. G., & Ariyati, E. (2018). Pengembangan booklet hasil inventarisasi tanaman obat sebagai media pembelajaran manfaat keanekaragaman hayati. Jurnal Sains dan Pembelajaran Sains, 02(02), 83-88.
Pitopang, R., & Ramawangsa, P. A. (2016). Potensi penelitian etnobotani di Sulawesi Tengah, Indonesia. Jurnal IPA, 5(2), 111-131.
Poerwadarminta, W. J. S. (2006). Kamus umum indonesia edisi ketiga. Jakarta: Balai Pustaka.
Puspita, A., Kurniawan, A. D., & Rahayu, H. M. (2017). Pengembangan media pembelajaran materi sistem imun pada hasil belajar siswa kelas XI SMAN 8 Pontianak. Jurnal Bioedukasi, 4(1), 64-73.
Putra, G. T. S., Kesiman, M. W. A., & Darmawiguna, I. G. H. (2013). Pengembangan media pembelajaran model tutorial dreamweaver pengelolaan halaman web ini untuk siswa kelas XI program keahlian multimedia SMKN 3 Singaraja. Jurnal Nasional Pendidikan Teknik Informatika, 1(2), 125-141.
Qasrin, U., Setiawan, A., Yulianti., & Bintoro, A. (2020). Kajian etnobotani tumbuhan obat yang dimanfaatkan oleh masyarakat Melayu Kabupaten Lingga Kepulauan Riau. Jurnal Wilds, 3(2), 139-152.
Sari, N., Wahidah, B.F., & Gaffar, N. A. (2017). Tumbuhan etnobotani digunakan dalam pengobatan tradisional di kecamatan Sinjai, Kabupaten Sinjai, Sulawesi Selatan. Prosiding Seminar Nasional Biologi untuk Kehidupan. ISBN: 978-602-72245-2-0. 6-13.
Silalahi, M., Nisyawati., & Anggraeni R. (2018). Kajian etnobotani tanaman pangan yang tidak dibudidayakan oleh masyarakat lokal sub suku Batak Toba, di Desa Peadungdung, Sumatera Utara, Indonesia. Jurnal Pengelolaan Sumber Daya Alam dan Lingkungan, 8(2), 241-250.
Thiagarajan, S., Semmel, D. S., & Semmel, M. I. (1974). Pengembangan instruksional untuk pelatihan guru anak luar biasa: sebuah buku panduan. Indiana: Universitas Indiana.
Tiarasari, W., Akmam, A., & Kamus, Z. (2018). Validitas dan kepraktisan bahan ajar mengintegrasikan STL (sains, teknologi dan lingkungan) ke dalam Edmodo fluida statis dan dinamis di kelas XI SMA. Jurnal Pilar Pendidikan Fisika, 11(3), 185-192.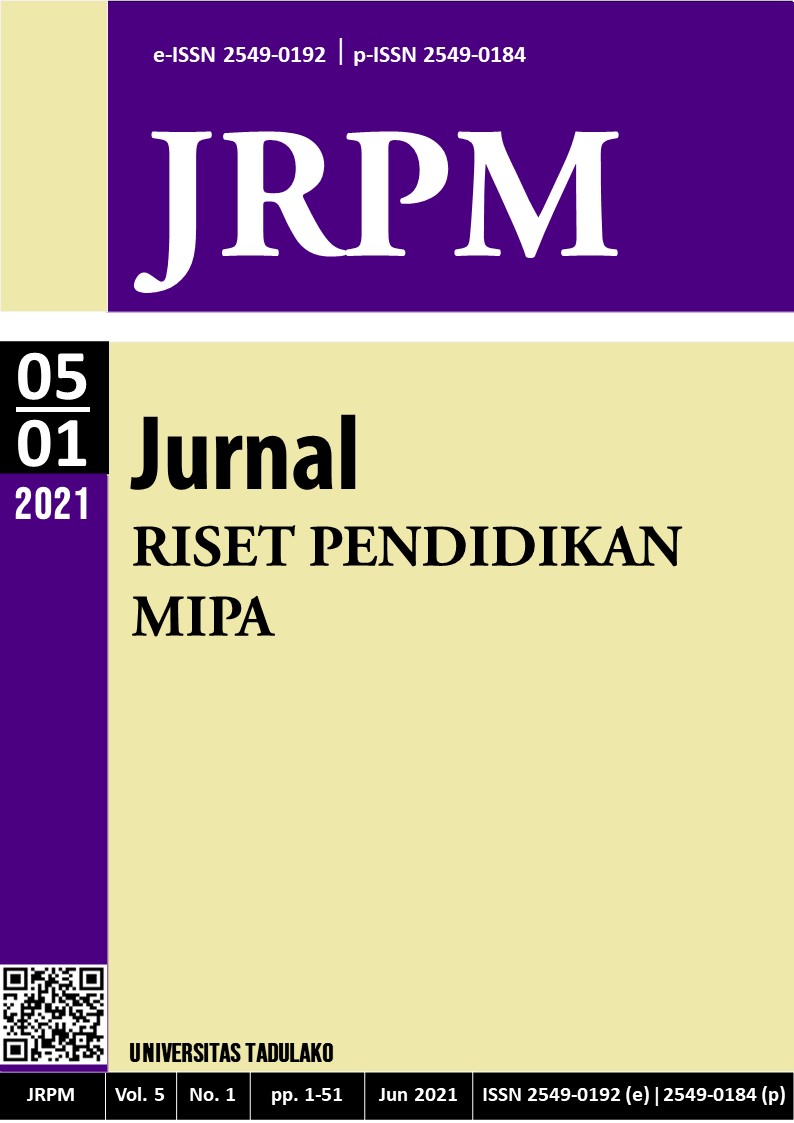 Downloads
How to Cite
Nirmawati, N., Masrianih, M., & Jamhari, M. . (2021). Development of Learning Media About the Study of Etnobotany Plant in Lauje Tribe at the Village of Siboang, Sojol District Donggala Regency. Jurnal Riset Pendidikan MIPA, 5(1), 9-17. https://doi.org/10.22487/j25490192.2021.v5.i1.pp9-17
License
Copyright (c) 2021 Nirmawati Nirmawati, Masrianih Masrianih, Mohammad Jamhari
This work is licensed under a Creative Commons Attribution-NonCommercial 4.0 International License.